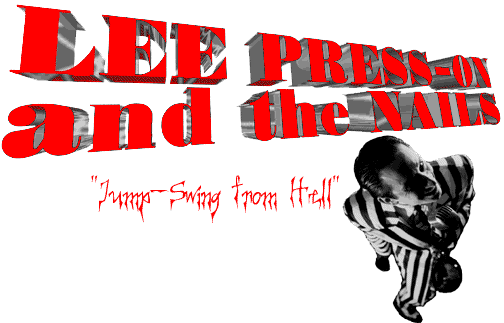 Have you ever wondered what it would be like if Gomez and Morticia Adams formed a swing band? No? Me neither. But if such a thing would happen, you would have Lee Press-On and the Nails! This high powered swing group gets the crowds jumpin' every week at the Hi-Ball Lounge in San Francisco, CA.
If you're looking for a group that plays "powerhouse" swing, this is the group for you. I'm not sure if this group knows how to play even remotely soft. LPN plays old favorites of Louis Prima, Cab Calloway, and also old unknown songs.
This group once again does not have much talent in it. Although, they have fun when they play. They love the music. There's no mistaking that.

THE BAND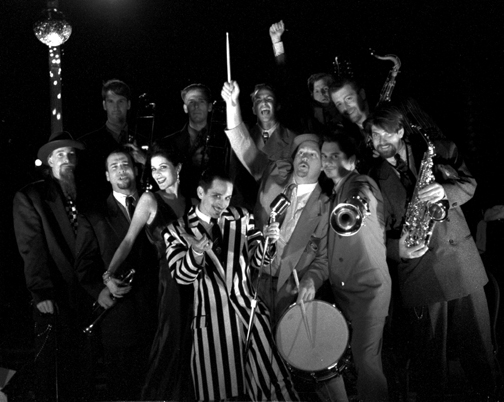 Lee Press-On and the Nails

&nbsp

Lead Vocalist

Lee Press-On

&nbsp

Featured Vocalist

Leslie Presley

&nbsp

Trumpets

Matt Cohen

Todd Grady

&nbsp

Saxophones

Mark Donelly (alto)

Bobby Rogers (tenor)

"Amazing" Larry Sweeny (baritone)

&nbsp

Trombones

David Kraczek

Bob Thies

&nbsp

Drums

Beau Faw

&nbsp

Upright Bass

Stuart Sperring

&nbsp

Piano

Taylor Cutcomb

&nbsp

Vibes

Lee Press-On

&nbsp

HOME